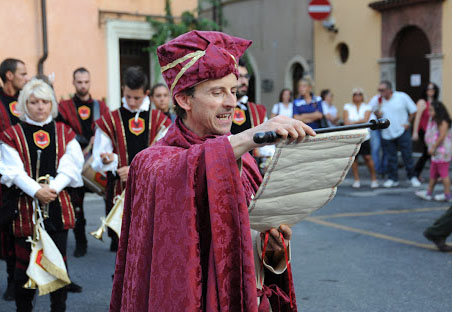 Rievocazione storica canonizzazione di San Domenico / Historical commemoration of the canonization of San Domenico
Rievocazione storica canonizzazione di San Domenico
Rieti celebra la Rievocazione storica della canonizzazione di San Domenico di Guzman. Grazie a questa manifestazione, giunta all'undicesima edizione e ricca di appuntamenti, cittadini e turisti verranno coinvolti in un tuffo nel passato, in particolare nel 1234, anno nel quale Domenico fu canonizzato da Papa Gregorio IX nella Cattedrale reatina di Santa Maria Assunta.
Si passerà dalle esposizioni dei falconieri allo spettacolo di sbandieratori e musici, per poi giungere ai due momenti clou previsti per la giornata di sabato: la processione del Grande Corteo Medievale e la rappresentazione teatrale della canonizzazione del santo.
---
Historical commemoration of the canonization of San Domenico
 Rieti celebrates the historical commemoration of the canonization of San Domenico di Guzman. Thanks to this event, now in its eleventh edition and full of events, citizens and tourists will be involved in a dip in the past, especially in 1234, the year in which Domenico was canonized by Pope Gregory IX in the Rieti Cathedral of Santa Maria Assunta.
We will pass from the falconers' exhibitions to the show of flag-wavers and musicians, to then reach the two highlights scheduled for Saturday: the Great Medieval Procession and the theatrical representation of the canonization of the Saint.